Roman Baths
---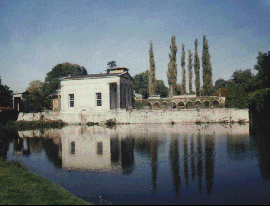 ---
Very short history:
Charlottenhof may be a beautiful little palace, however, it had no bath.
From 1829 to 1840 Frederic Wilhelm worked on plans for the Roman Baths. Those were then turned into reality by his architects Schinkel and Persius.
A bath-tube of green marble stands in the middle of the bath room, surrounded by stone tables and marble statues.
However, Frederic Wilhelm never took a bath here. He preffered to play pool in one of the other rooms of the building.
---
From here, you can go to the Chinese Teahouse, the palace Charlottenhof and the Neue Palais.
Back to the main page